The Creek Run Training Seminar and Environmental Geology and Geography Symposium, an educational and skills-building event, has been a favorite tradition for the Creek Run staff for over 10 years.  But due to the COVID-19 restrictions in 2020, Creek Run was forced to cancel their annual training seminar and symposium last September.  As soon as businesses began to open again and restrictions were lifted, Creek Run decided to host a "mini" training seminar to ease back into and continue the training tradition.
The 14th annual training seminar was held on Thursday and Friday, May 20 and 21, 2021, in Yellow Springs, Ohio.  Thursday night's dinner was at the Mills Park Hotel, where Creek Run staff members could meet the guest speakers and enjoy a relaxing evening together.   
On Friday morning, the seminar consisted of four presentations by Creek Run employees and guest speakers.  Dr. Jason Lenz, Ph.D. and CEO of Creek Run, welcomed everyone and spoke about how the recent health and safety restrictions have affected our lives and businesses, while focusing his speech on looking toward the future and getting back to normal.  Dr. Erik Larson, Ph.D. and Assistant Professor of Geology at Shawnee State University, along with David Fitzpatrick, Field Geologist at Creek Run, presented an overview of the geology of Yellow Springs, Ohio.  Dr. Lisa Brownell, Ph.D. and Ohio Historic Preservation Tax Credit Program Manager, presented on home additions and authenticity in German Village.  Finally, Ryan Peterson, CHMM and Senior Project Manager at Creek Run, and Cole Lenz, LPG and Project Manager at Creek Run, provided the group with the 2021 UST compliance updates and how these changes will affect the industry.
The seminar attendees enjoyed a leisurely hike on Friday afternoon through the Clifton Gorge State Nature Preserve in historic Clifton, Ohio.  They trekked along the winding trail that followed the Little Miami River and observed the extensive dolomite gorges and local landmarks like "Steamboat Rock."  After taking in the sights on the beautiful sunny day, everyone bid farewell to Yellow Springs and made their way home.
While specific preparations have not been made yet, Creek Run looks forward to hosting the 15th annual training seminar and symposium to help further the education and training of Creek Run technical staff.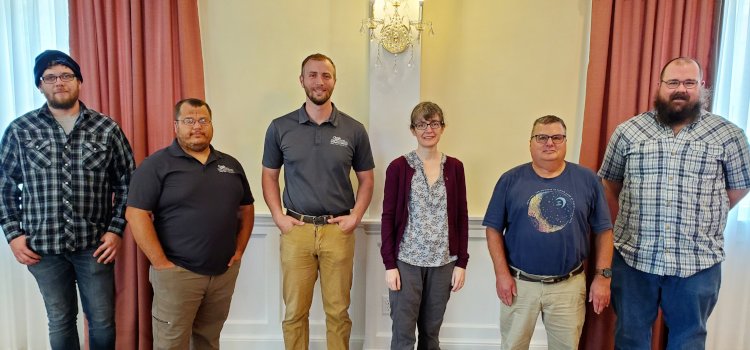 Speakers who presented during the May 2021 symposium are, from left to right: David Fitzpatrick (Creek Run), Cole Lenz, LPG (Creek Run), Ryan Peterson, CHMM (Creek Run), Dr. Lisa Brownell, Ph.D. (Ohio Development Services Agency), Dr. R. Jason Lenz, Ph.D. (Creek Run), and Dr. Erik Larson, Ph.D. (Shawnee State University).