Every year for the past 12 years over Labor Day week, Creek Run has hosted a training seminar at different locations throughout the United States, traveling to destinations in Oregon, Utah, Mississippi, South Carolina, and more.  This year, Creek Run's technical staff met in French Lick, Indiana, at the historic French Lick Springs Hotel and Casino for the 13th Annual Creek Run Environmental Geology and Geography Symposium.  This was the third year the Creek Run training symposium had taken place in beautiful French Lick, but there were new topics and sites to discover this time around.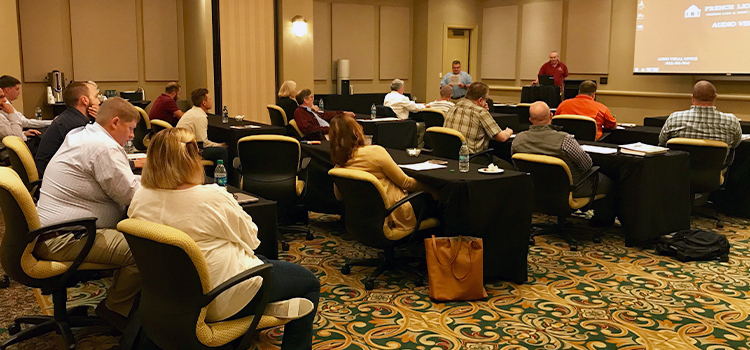 As part of the continuing training, Creek Run employees completed the OSHA 8-hour refresher course on Tuesday, September 3, to maintain their 40-Hour Hazardous Waste Operations and Emergency Response (HAZWOPER) Certification.  Creek Run geologists Colton Palmer and Ross Yeater participated in the dress-out potion of the course, demonstrating the limited maneuverability of performing simple tasks in Level A personal protective equipment.  Later that evening, Creek Run staff, symposium speakers, and guests gathered at 1875: The Steakhouse to enjoy a delectable meal with sparkling conversation.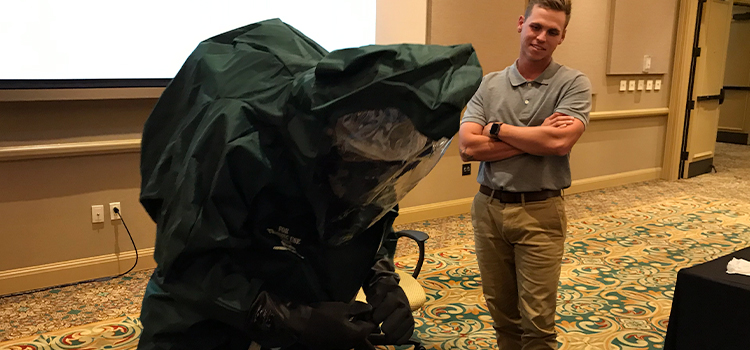 Creek Run was honored to host a wide variety of guest speakers who presented on industry-related topics during the environmental symposium on Wednesday, September 4.  For most of the speakers, this was not their first time presenting at a Creek Run symposium.  Dr. Erik Larson, PhD in Earth and Atmospheric Sciences, presented on surface and groundwater hydrogeology.  Mr. Doug Louks, Deputy Assistant Commissioner of the Office of Land Quality of the Indiana Department of Environmental Management (IDEM), shared IDEM's latest UST and Petroleum updates.  Dr. John Mylroie, PhD in Geology, presented on the age of the earth and other environmental topics related to "fake news."  Dr. Darrel Schmitz, PhD in Geology, presented on the professional licensure and testing for geologists, providing comparisons of requirements in different states.  Mr. Wayne Brew, M.A. in Geography, provided an illustrated presentation of US Routes 20, 40, 50, and 31 in Indiana.  Mr. Chris Parks, Senior Project Manager at IWM, and Mr. Jeremiah Catron, Senior Project Manager at Creek Run, spoke about a few geological wonders in Southern Indiana, providing information of sites that the group would visit the next day.  Dr. Jason Lenz gave a presentation on finding joy in the little things every day.
On the final day of the training week, Thursday, September 5, the group traveled to six different sites in the southern Indiana area to explore nature and see geological wonders.  Creek Run staff and guests enjoyed beautiful views at Overlook Park, explored underground formations at Little Wyandotte Cave, hiked through Hemlock Cliffs, and were treated to some comfort food for lunch at the Overlook Restaurant.  They also saw some unique geological features at Jug Rock and Rise of the Lost River.  This sunny summer day was a perfect ending to another successful training trip.
Preparations have already begun for the 14th Annual Creek Run training symposium, which is scheduled to be held in Hocking Hills, Ohio.